Home
» Kerala Attractions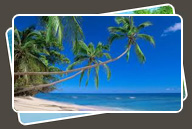 Beaches
With the Arabian sea in the west, Kerala's 600 km long coastline is dotted with sandy beaches, cliffs, natural harbours and coconut palms. The serene beaches are ideal for moonlit strolls, catamaran cruises, country boat rides, surfboard thrills, skiing delights.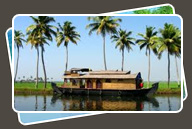 Backwaters
Kerala has a splendid expanse of palm fringed, emrald backwaters - meandering inland lakes networked by cannals - that stretch to over 900 kms. Boat trips across these tranquil stretches are an experience unique to Kerala . Large Kettuvalloms ( traditional country crafts over 60 ft in length ) have been converted in to luxury houseboats for these cruises.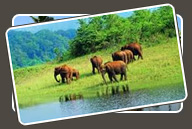 Wild Life 
One of the largest wildlife reserves in India, the Periyar wildlife sanctuary in Thekkady is famous for its tigers. A boat ride on the splendid Periyar lake is the best way to experience the sanctuary. Eravikulam National park, Munnar is home to a wide range of wildlife such as Nilgiri Tahr, Nilgiri Langur, Sambar, Gaur and Lion tailed Macaque.
Ayurveda
Ayurved evolved around 600 BC in India. This system of medicine stresses on the prevention of body ailments in addition to curing them . Kerala's equable climate , natural abundance of forests ( with a wealth of herbs and medicinal plants ) and the cool monsoon season ( June - November ) are best suited for Ayurveda's curative and restorative packages. Traditional texts reveal that the monsoon is the best season for rejuvenation programmes.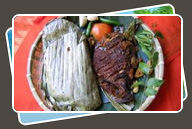 Kerala Cuisine
Kerala has a cuisine as distinctive as its cultural life. Influenced by its long coastline and flavoured by the all-pervasive coconut, it is enriched by exotic fruits, vegetables and seafood garnished with the distinctive aroma of spices.
Served on a plantain leaf and eaten with the hand, the Sadya is the traditional feast of Kerala. A three course meal, the sadya includes an amazing variety of up to 40 vegetarian delights. The sadya is rounded off with different varieties of payasams (sweet desserts).
The Moplah cuisine of Malabar and Syrian Christian cuisine are unique in its rich flovour.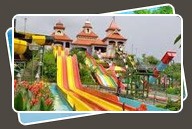 Theme Parks 
There are ample picturesque locations and places of natural scenic beauty all over Kerala. To add a little more variety to the interesting places that tourists can visit, there are also a few amusement parks and water parks in the state.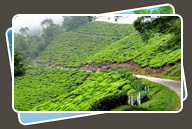 Hillstations
Much of Kerala's exotic appeal is centred in the highland area of the Western Ghats. Rising to an average height of 1520 mtrs, the tropical forests of the Ghats house rich flora & fauna. Not to speak of the expansive plantations of tea, coffee, rubber and fragrant spices .
Waterfalls
The forests of Western ghats are really gifted with large and small waterfalls gurgling and splashing down the mountain side. The cascading showers, thundering fall of waterfall (there are around 19 of them) seems to break the tranquility of the forest zone. Rushing down from a great height, the waterfalls too present a breathtakingly picturesque beauty. It would not be wrong to state that the lakes and waterfalls of Kerala carry with them a magical quality that allures visitors at very first glance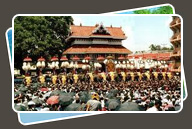 Festivals
Kerala is a land of festivals. Most of the festivals of Kerala are connected with local traditions and religions. A close look at the Kerala calender will reveal that this is a land where the festivals never end.